Im feeling less than creative today and Im taking time at work to blog (shhh..) Sorry boss if your reading this!
So I thought I would join 5 question Friday! Check out Sippy cup moms answers too!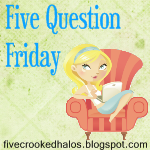 1. If you could go back to college would you change your major?
No, I love what I do, I love being involved in the health of our children. I would however have finished a minor in literature. I love writing and reading. I actually am back in school (one class really) in a writing class! Already through the first couple weeks and loving every minute of it.
2. What do you love most about your home?
My yard. It is big and so fun. The kids love to play out there and I have a comfy outdoor couch to lounge on while the kids are playing and Andy even installed a fan and misters for me for the summer. Im sure we will be spending a majority of the summer under those misters.
3. What types of books do you like to read?
Most anything really. I love fantasy, mystery and chick lit. I currently am going through the Jane Austen collection which is awesome. I am deep into Pride and Prejudice at the moment and loving it.
4. What is the grossest thing you have ever eaten?
I think the worst is black licorace and yams. Yuck. I gag everytime, although I mostly avoid those now.
5. If you had to become a charachter on a TV show which would you be?
If I had to pick one most like my personality it would be Pam from The Office. If I could be someone different I think I would be Sarah from Chuck. She is awesome- kicks butt and looks great doing it.