Mommy and Me Monday is a time each week that we spend doing something fun with our kids. Leave the chores behind and take a few hours out of your day to have some quality time with who matters most- your kids.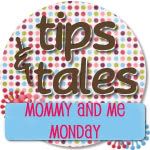 This weeks Mommy and Me Monday is a little mellow. Today I am having surgery so I'm a little preoccupied. But we did a little activity a little early anyway. So this weeks activity is Letter Hopscotch. This activity is for little letter learners. It's a fun way to learn and reinforce letters for the preschool aged kids.
Here is what to do: Draw large letters in chalk on the ground. I used sidewalk chalk on our back porch. Have your child help by naming the letters as you write them. Then have them find and stand on a letter. Once they find that letter have them jump to another that you name nearby.
Em has been doing a great learning her letters, but this is a fun activity for her to reinforce all that new information. She has a blast!