Mommy and Me Monday is a time each week that we spend doing something fun with our kids. Leave the chores behind and take a few hours out of your day to have some quality time with who matters most- your kids. Then take a moment and tell us all about it and link up!
I realize its a holiday, so most people are home with their family today. So even if there is other family members, link up what you did today! Or wait until tomorrow- the linky will be open all week.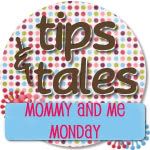 This week for our outing, we went to see a movie. Since we have been running all over this weekend, incredibly busy, I though we could slow down a bit. Right now the theaters are not showing any great kid friendly movies. But at the local dollar theater, they are still playing Shrek, Despicable Me, and Toy Story 3. So its a great cheap date!
We ended up seeing Despicable Me. It was so cute and funny. Em and I liked it, and I think she was loving the alone time with me today. Will did go with us initially, but he was scared from the moment the movie started and sat out in the lobby and played with Sam, my cousin.