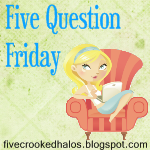 1. Do you have any nicknames and if so how did it come about?
My family calls me Care Bear, my sister started it when I was young. I grew up when the Care Bears started but my parents say that she started it pre-care bears. As I grew up it got shortened to just bear.
2. What is your birth order amongst your siblings?
I am the youngest of 3. I have an older sister, Katie, who is 3 1/2 years older than me and a brother, Jim, who is 1 1/2 older.
3. In a movie of your life, who would play your significant other?
I think Ben Affleck kind of looks like my hubby. Although that may just be because I think my hubby is a hottie. Hmm...
4. What is currently your favorite song?
This is hard, I love Katy Perry, but I don't really keep up with what's cool in music. I am always stuck listening to toddler tunes haha. Michael Buble is also my favorite artist.
5. Are you saving your money for anything right now? Big or small purchase?
A house and a motor home. Two big purchases! We have about 10 more months for the house (and counting down) and hopefully only a few more for the motor home. We are getting anxious to travel with all our friends as we are planning a motor home caravan across country, Disney World here we come!